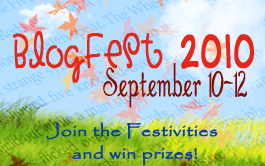 Welcome everyone to
Blogfest 2010
!!!! Join the fun of seeing all the book blogs that are out there to read and enjoy (as far as I can see over 260 in just this blogfest!)!
There is a list of all the blogs involved and all about the giveaways over at
A Journey of Books
. Make sure to start at the beginning of the list and hop from one blog to the next (each will link to the next blog in line). For example, after checking out my blog #237, please make sure to hop on over to
Biz Mommy
#238 to see their blog and giveaway!!!
I've been away for a while, but am back to doing reviews!!! So I am hoping this will rejuvenate my readership and get others to come back! I've got alot of good reviews coming up!!!!
Now time for the fun!!!!!
GIVEAWAY!!!!
I am going to be giving away to one winner.....a......
$20.00 Amazon e-gift card !!!!!!
Contest rules:
1. Just leave me a comment with what book is #1 on you TBR list that you might get using the gift card. PLEASE make sure to leave your email address in your comment so that I can contact you if you win! No email..no can win :-) This will give you one entry!!
2. Follow my blog - one extra entry
4. Tweet about this giveaway - one extra entry ( please comment using link to tweet)
5. This giftcard is only valid for use on amazon.com ( so only enter if you have access to using this u.s. site and u.s. dollars).
6. Contest runs from 12am Fri. Sept 10th - 11:59pm Sun Sept 12th. (EST)
Thanks for entering ....and I hope you enjoy the BLOGFEST 2010!!!
Please come back soon!!! New review will be up on Saturday!!!!